How to have a very Hygge Winter
What on earth is this strange word and what does it mean? Hygge (pronounced hoo-gah) is a Danish word that cannot be translated into one single word because it encompasses so much. To put it simply, hygge is cozy contentment and well-being through enjoying the simple things in life. It is the Danish concept of a lifestyle that emphasizes finding warmth in the form of comforting activities, food, atmospheres, materials, friends and family. If you've ever enjoyed reading a book indoors on a rainy Sunday or a cup of hot cocoa on a snow day you've experienced hygge without even knowing it. Hygge is such an important part of being Danish that it is considered "a defining feature of our cultural identity and an integral part of the national DNA," according to Meik Wiking, the CEO of the Happiness Research Institute in Copenhagen. "In other words, what freedom is to Americans. . . hygge is to Danes," Wiking says in his book The Little Book Of Hygge. This national obsession with all things cozy is credited as one of the reasons why Denmark is always at the top of the list of the world's happiest countries, despite their infamously miserable cold, dark winters. Now the rest of the world is beginning to catch on to this way of living. This wonderful concept, put into action creates contentment and well-being and you should jump on this wonderful trend! Here's your practical guide for implementing hygge into your homes and lives this winter.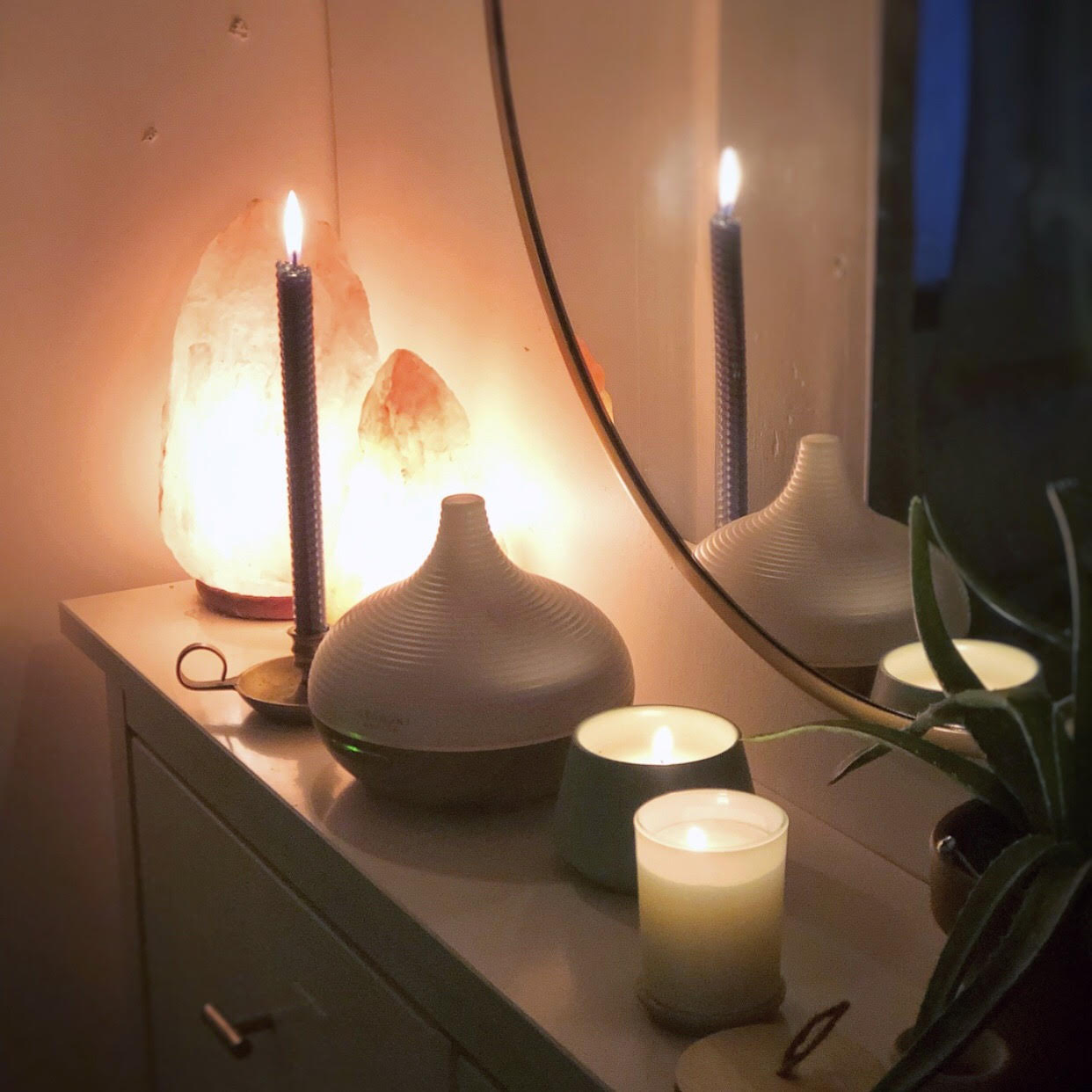 Create an atmosphere of lighting that exudes warmth, comfort and coziness. If you have a working fireplace you've hit the hygge jackpot! Fluorescent lighting is not only a poor choice for your health, it is the opposite of hygge. Candles are a staple of the hygge lifestyle, no recipe for hygge is complete without them. No candles, no hygge. Walk through the streets of Denmark and you will see lit candles in nearly every window, storefront, office window. Candles create a sort of emotional coziness and they are at the top of the list for creating a hyggelig (hoo-gah-lee) atmosphere. Opt for natural beeswax candles like these tapers which I love because they actually burn much longer than other brands. If you can't beeswax, or at the very least go for a natural soy, don't candle at all, as the toxic micro particles that petroleum fragranced candles let off are no better than second hand smoke. My favorite candles are these beeswax tapers - they also come in some fun natural colors such as dark green (my favorite) or in tea light form. All my candlestick holders were thrifted - they are abundant in thrift shops!
It's not all about the candles, though! Danes are obsessed with lighting in general. Lamps can add nice caves of light throughout the home. Twinkle lights give off a very magical cozy feeling as well. You want to create soothing, beautiful light. The lower the temperature the light, the more coziness it will exude.
Pull out your coziest winter best. The woolen sweaters, scarves, fuzzy socks and those pants that you wouldn't dare wear in public but are the comfiest thing you own. Think soft layers. In your living area as well - layer rugs and have a stack of your best snuggling blankets in an easy-to-grab location. Every home needs a hyggekrog (roughly translates as a cozy nook) where you can snuggle up in a pile of blankets with a cup of tea and a good book. A hyggekrog by a window with natural lighting - bingo!

In Denmark, it is customary to have hyggebusker, which is essentially a pair of house pants meant to be used solely for home lounging activities. Aquire a special pair of pants that you adore and feel ultra comfortable in and begin the ritual of wearing them when you are planning on settling in for a period of relaxation or close-knit family time. Psychologically, this tiny ritual can create a peaceful feeling of warmth and relaxation. Don't forget to get cozies for the kids as well! Head out to the store for a special pair of jammies or loungewear and slippers.
Cozy spaces might be small, but that doesn't mean they're cluttered. Psychologically, you can't truly take that big inhale and relax in a space that is cluttered and disorderly. Take a page from Marie Kondo's book, 'The Lifechanging Magic of Tidying Up' and clear out that old clutter and things that don't bring you joy. Hygge definitely has some minimalism in it's roots. It's not about having less, it's about getting rid of the unnecessary and making room for more of the things that truly matter.

Danes rated hot drinks the second most important hygge factor (number one is lighting.) What is a pile of cozy cushions and blankets, candles and warm lighting without a warm cup of liquid in your hand? Why the obsession with hot drinks? Well, you can't successfully sip a cup of hot liquid while moving. A warm drink is an invitation to pause, to rest in the moment and to recharge the batteries. My favorite feel-good hot beverages are a simple organic coffee in a French press with coconut creamer, or hot cacao (almond milk, high quality REAL cacao, maple syrup) and of course TEA! I will just leave the word in all caps to emphasize my obsession of it. Loose leaf, bagged, cream and honey, or no cream and honey, tea is pure magic in a cup.
Get the kids involved in a hot drink daily ritual! My four year old has his own French press that he gets do use (under hands-on supervision) and it really gets him excited to make tea! He gets to choose herbs for a custom loose leaf tea blend and it is a bit of a mess but the delight that it gives them is unmeasurable.
The Danes not only highly value spending quality time outdoors daily, they love to bring forest treasures inside to add touches of beauty to simple decor. Leaves, branches, nuts, pinecones, any lovely bits of nature are sure to add a rustic warmth to a space. Danes also have a love of wooden things, which are happily making a comeback, especially in the toy industry. Creaky wooden floors, an old wooden chair, the smell of wood burning in a fireplace… Wood makes us feel closer to nature, it is simple and natural, just like the concept of hyyge. Involve the children in the task of foraging for treasures. My son has a "nature walk basket" that he uses to collect things, which he brings inside and puts them on display or uses to make crafts.
Books are a cornerstone to the hygge concept. Pull out the classics to stack on a side table or curate a library list of books you've been meaning to read and make an effort to shut devices off and sit with a warm beverage and just BE. You and the book, no distractions. It doesn't matter the genre or author, (although it will increase the effect to choose wisely) this act alone has a significant affect on the soul. It is a soothing self-care ritual that you will feel in your bones if you allow yourself to just BE and FEEL the words and put all other distractions aside. As a mother of small children, I don't often get to do this alone, but even with kids running about I can still get lost in a book, and even though it only ever a minute or two at a time in between interruptions, once I stand up I am in a better disposition. I'm a kinder and more compassionate mother and I feel a new vigor for the day. Children dearly love books as well and I strongly believe we need to foster that love by reading to them as much as possible! We now have a daily mid-day ritual in this colder season to prop up half a dozen pillows on mama's bed, pile on the blankets and all snuggle in with a stack of books and maybe a snack or kiddie thermoses of hot cacao and read until they are through, which is usually around 45 minutes. My four year old would let me read to him all day, but I also have a one year old, so activities have to be adjusted accordingly.
Indulging in comfort food to is essential to the Hygge philosophy. Sharing a delicious treat or meal with friends and family is something that fosters togetherness. However, I want to highlight that comfort food does NOT need to mean "junk food." There is an endless variety of more healthful recipes that are just as delicious (if not more so) than cooking or baking using unhealthy ingredients. My favorite subs are coconut sugar or monk fruit sugar in place of white or brown sugar, arrowroot and chia in place of eggs (not that eggs are junk food, just throwing this in for my fellow plant based people!) and coconut cream, almond or hazelnut milk instead of lactose. Pinterest is your friend! There are so many amazing recipes and inspiration for amazing healthy and plant based comfort food.
Music is central to our home, and a hyggelig lifestyle. Hygge is a verb but also equally a feeling, and the right music delights the ears and the soul and adds that perfect touch to a cozy atmosphere. I like creating playlists by mood/activity/time of day - one for morning time or simple relaxation, a easy listening classical mix. One for playtime/housework - a lively playful variety of folk tunes. An evening mix of sultry feel good tunes, and a few others - it really sets the mood for whatever you have going on!
The most hyggelige moments seem to happen in the company of other people. Spending quality time with close friends and family relaxing at home, doing a lot of nothing, eating delicious treats and enjoying each others company is an important part of what gives the Danes their remarkable happiness. How do we slow down long enough to do this? First of all, we have to let go of some of our business and stop wearing it as a badge. We have to lose the fookmo (fear of our kids missing out) and stop enrolling them in more extracurricular activities than they need. To most Americans, hygge isn't going to come completely natural. We might have to . Especially those of us with kids. Make some popcorn, or cookies, some kind of after dinner treat, turn the lights down, turn on a lamp, light a few candles or twinkle lights, make hot cacao, play a board game, or just sit on the couch wrapped up with your spouse and whisper about the day, about feelings, watch the kids run around - let them notice you slowing down to enjoy life, and to enjoy just being with them.
Host a weekly or monthly game/drinks/family night with some close friends or family. Getting together with family in this way is something we have so strayed on as a culture. Yes, many of us see our family regularly but how often do we actually slow down long enough to enjoy and get to know each other on a deeper level? This should be a time of equality. 'We' over 'me'. Share the tasks and the airtime. It's not a competition. It's also a time of harmony, (we already like you, there's no need to brag about your achievements). No politics, drama, or gossip. (Paraphrased from Meik's book). It is a sacred time to recharge and to rest a weary soul. Hygge may be especially appealing for introverts, who have a hard time at social gatherings and the social pace of our culture in general. Introverts expend energy being around people, but I'd wager to guess that this will also be a time of recharge for the introvert.
To hygge, is to pursue everyday happiness through the humdrum of life in the simplest but meaningful things. Use these winter months to savor the simple pleasures, strive for mindful relaxation and pursue togetherness.
I hope you enjoyed this guide! Do let me know how you plan to implement some of the hygge concepts into your winter! xx