Rescue | skin healing salve for eczema + psoriasis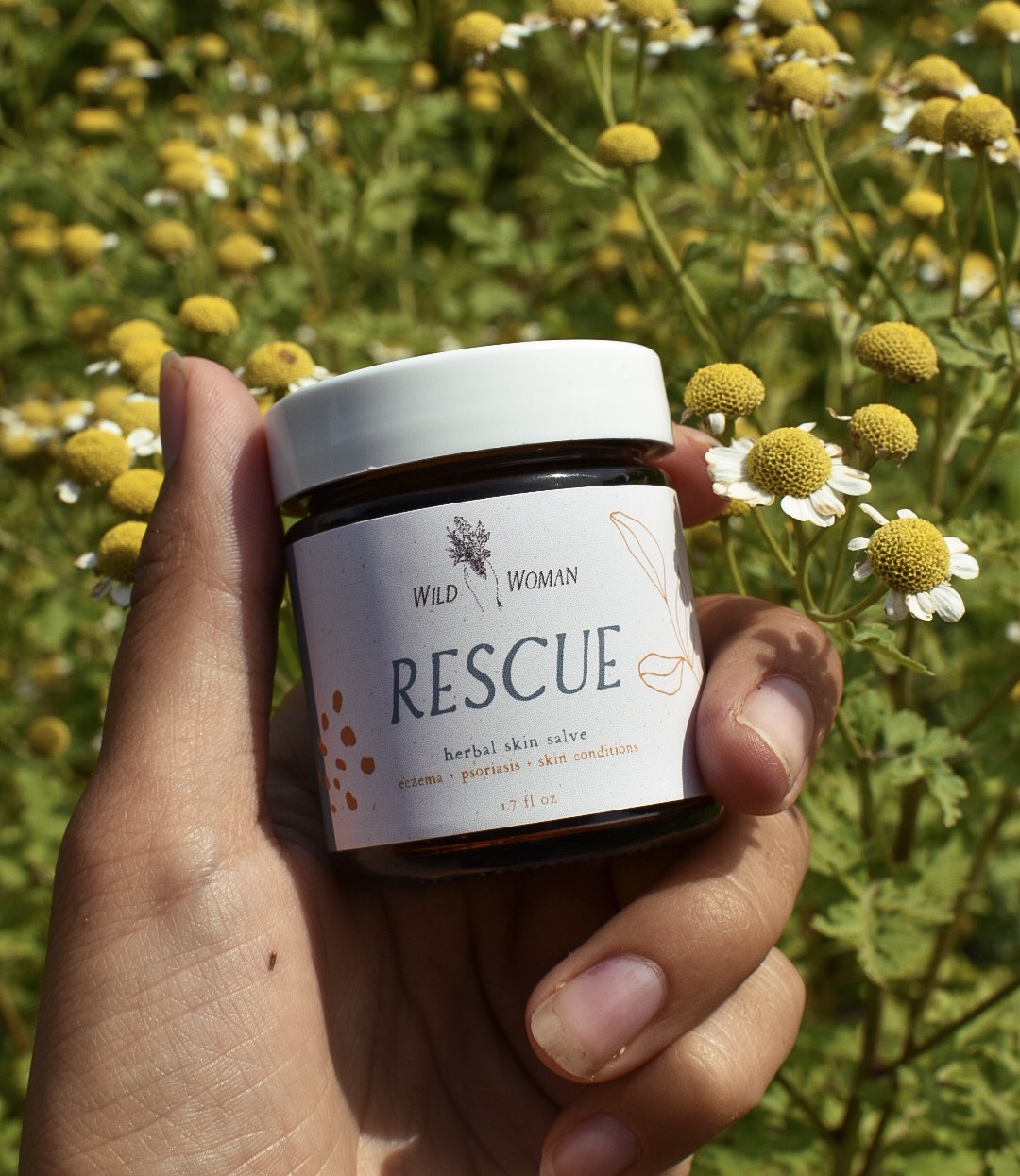 Rescue | skin healing salve for eczema + psoriasis
A powerful skin healing salve that has been formulated with eczema + psoriasis sufferers in mind. The soothing, drawing and skin cell regenerating properties in this salve go to bat against inflammation, scaly patches and red, inflamed skin.
A note on eczema + psoriasis: Topical treatments can be wonderful for treating damaged skin and can aid in drawing out the toxins in a safer and less damaging way, but it is important to know that the root cause is internal. An external solution should not be the only action step taken to eliminate eczema + other skin conditions. (Most cases of eczema and psoriasis are the result of poor digestive or liver clearance. These organs are tasked with safely eliminating toxic byproducts from the body.) When the liver and digestive system aren't eliminating toxins effectively, they build up in the blood stream. As toxicity rises in the blood, other organs begin to step up, attempting to clear it from the body. Toxins begin passing through the sweat glands on the skin. Unlike the liver and digestive tract, the skin isn't designed to handle toxic burdens of this magnitude. The result is acidic toxins coming up through the skin, in the bodies attempt to remove the harmful waste from the body. (Everything our body does is only trying to heal us.) This causes inflammation, and cell death on the skin, which go on to cause symptoms associated with a psoriasis and eczema diagnosis which can look like itchy, flaky, and inflamed skin.
This salve is certainly not only for skin-rash-sufferers. It can be used as an all-purpose healing salve for cuts, burns, sunburns, insect bites or stings, or even as a deep moisturizing treatment for any area of the body.
The salve is lucious and silky smooth with a beautiful golden hue and light earthy-honey scent.
1.7 oz.
100% organic
INGREDIENTS:
SHEA BUTTER: Raw, unrefined. Wildcrafted in Togo, West Africa, by a fair trade organization that provides a source of income to local communities through programs including supportive, empowering women's co-ops. Created by cold pressing the fruit of the karite tree.
Shea butter is highly emollient and rich in antioxidants, including Vitamins A and E. It heals dryness and soothes skin conditions such as dermatitis, psoriasis, and eczema.
JOJOBA OIL: A superior carrier oil for skin, due to its molecular stability and low poly-unsaturated fatty acid content. This organic oil is pressed from the beans of the shrub-like Simmondsia chinensis plant. Minimum pressure is used to obtain the high-quality oil since the beans contain approximately 50% of the oily wax as its own, natural protectant. Jojoba closely resembles our skin's own sebum—the oily secretions our skin produces to protect itself—making it a natural alternative to moisturizing creams. Jojoba is highly penetrating and contains powerful antioxidants, which means it is deeply moisturizing and healing.

COCONUT OIL: Unrefined, virgin, pressed using low temperatures from the flesh of fresh coconuts in the tropics of Mexico. Coconut oil is high in saturated fats, which are excellent for revitalizing, moisturizing, and relieving dry or damaged skin.

BEESWAX: Organically crafted beeswax New Zealand. Unrefined, lightly filtered, pure, and natural! It is a rich, golden color and divinely aromatic. The surrounding fields where these bees live are in their natural states and are unsprayed. Resistant to oxidation, and has anti-bacterial, and anti-inflammatory properties.
JOJOBA OIL INFUSED WITH THE FOLLOWING HERBS:
CALENDULA: The petals of this small, unsuspecting flower pack a potent punch. They inhibit two of the primary enzymes responsible for inflammation (known as COX and 5 LOX), as well as another primary inflammatory marker (known as TNF-alpha). These inflammatory molecules play a major role in the process of psoriasis and eczema. One of these enzymes (COX) is also the target of the common anti-inflammatory drug, Aspirin. When applied to the skin, calendula offers immediate anti-inflammatory, nourishing, and vulnerary (promotes healing) effects.
HORSETAIL: (wildcrafted) High in antioxidants. Anti microbial, anti inflammatory, reduces free radical damage and contains silica which helps the skin produce collagen to restore damaged skin.
PLANTAIN LEAF: (wildcrafted) Antiseptic properties, can be used topically to promote the healing of damaged skin, reduce skin inflammation, stop bleeding, reduce pain and prevent secondary infections of wounds. The International College of Herbal Medicine states that plantain leaf has anti-inflammatory, analgesic, antibiotic and immune-stimulating properties.
Plantain also contains fiber, potassium, calcium, magnesium, sodium, phosphorus, zinc and copper, as well as vitamins A, C and K. It is also a rich source of numerous phytochemicals, including allantoin, glycosides, phenols, salicylic acid and tannins. Phytochemicals are antioxidant compounds found naturally in plants that prevent free radical induced damage.

WHITE OAK BARK: Contains precious nutrients, such as iron, vitamin B12 and potassium, oak bark is rich in tannins, which are compounds with astringent and antiseptic properties.
Oak bark has long been used by many nations in healing wounds and different skin conditions. Applied topically, it stops bleeding, helps heal burns, cuts, eczema and bruises, and may even improve the appearance of wrinkles. Swelling and inflammation, together with fungal skin infections are also kept at bay.
COMFREY LEAF + ROOT: The incredible healing action this plant has on broken bones and wounds comes from a constituent contained in the leaf and root called allantoin. This compound is a cell proliferant which helps to regenerate wounded areas of the body and speed up new healthy cell growth. Reduces scar tissue during healing.
CHAMOMILE: Traditionally used for centuries as an anti-inflammatory, antioxidant, mild astringent and healing medicine Chamomile is widely used to treat inflammations of the skin and mucous membranes, and for various bacterial infections.
________________________

TURMERIC: Turmeric interacts with nearly all organs in the body. It improves liver detoxification, reduces inflammation in the digestive tract, and soothes inflamed skin.
LAVENDER essential oil: Reduces redness, blotchy patches, and scarring. Anti-inflammatory properties boosts the synthesis of collagen and heals skin tissues.
FRANKINCENSE essential oil: Touted as the King of essential oils due to it's powerful anti-cancer properties. It is also a powerful astringent, meaning it helps protect skin cells. It can be used to help reduce acne blemishes, the appearance of large pores, prevent wrinkles, and it even helps lift and tighten skin to naturally slow signs of aging.
HELICHRYSUM essential oil: Wildcrafted. Helichrysum Italicum, also known as Immortelle, is revered for its unparalleled regenerative and protective benefits in skin care as well as its anti-inflammatory and anti-cancer properties. It contains compounds that promote healthy skin cell growth and regeneration. It also helps speed up healing of wounds, burns, and rashes and reduces scarring.
Disclaimer: These statements have not been evaluated by the Food and Drug Administration. This product is not intended to diagnose, treat, cure, or prevent any disease. Results may vary.
sold out